From inception to running programs in just two months – that is the whirlwind story of this month's YMP Map of the Month – Auburndale Park in Newton, Massachusetts. Back in September Newton Parks Recreation Manager Channon Ames was investigating options for socially-distant, outdoor activities that could be offered by the city when she received a timely email from OUSA member Navigation Games. While meeting with Navigation Games president Barb Bryant she learned about the Youth Mapping Program and its associated grant program.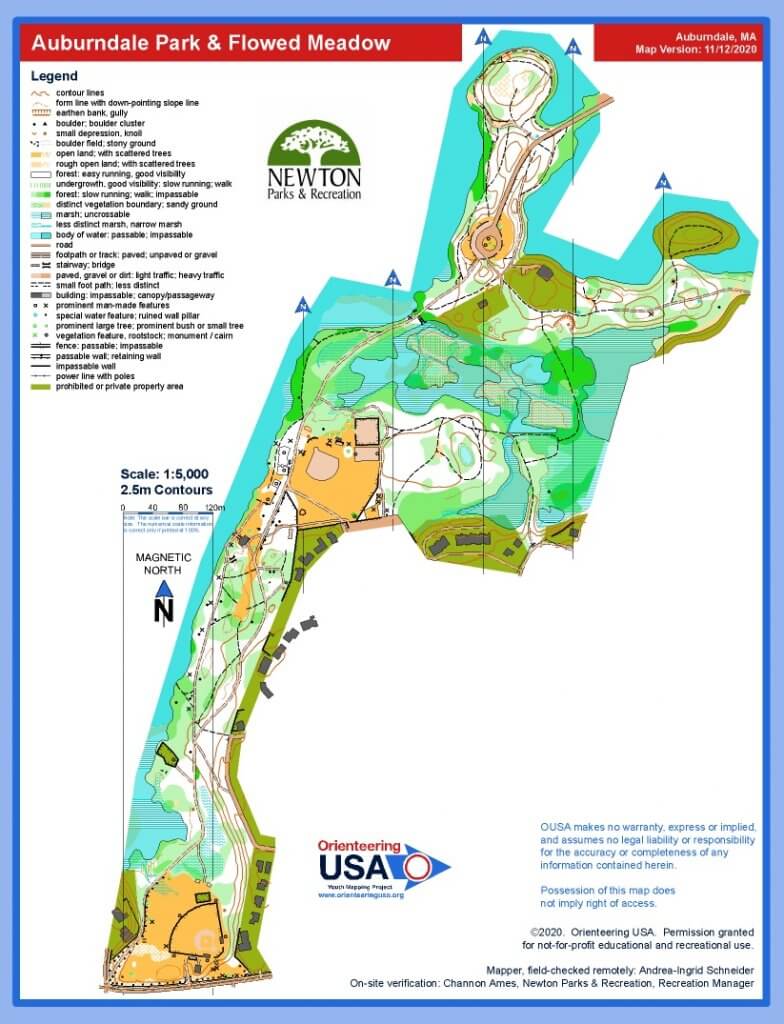 Channon was paired up with YMP's Andrea-Ingrid Schneider to remotely map the park with Channon serving as 'eyes on the ground' to assist Andrea in the map making process.

Channon says Andrea "was amazing to work with. The information she was able to pull together using online resources from half-way across the country was incredible. Andrea was able to guide me through the process of field checking areas and correlating images to the map in order to produce our map."
By late October the map was complete and recreational programs were quickly underway. As of mid-November the park has already:
Run a 4 week introduction to orienteering program at Auburndale Park for 21 children in grades 2 – 6 with Navigation Games.
Run a photo scavenger hunt at Auburndale Park for 30 children in grades 6 – 9 using the pictures from the map checking process.
Installed a permanent orienteering course at Auburndale Park with the help of a local Eagle Scout and his troop.

The permanent course includes posts with control signs, punches and QR codes.
The signs give information about the history, features and native species of the park, making the courses fun for orienteers and the general public.
9 of 11 permanent markers are wheelchair accessible and plans to make trail improvements to the remaining 2 markers will make them fully accessible as well.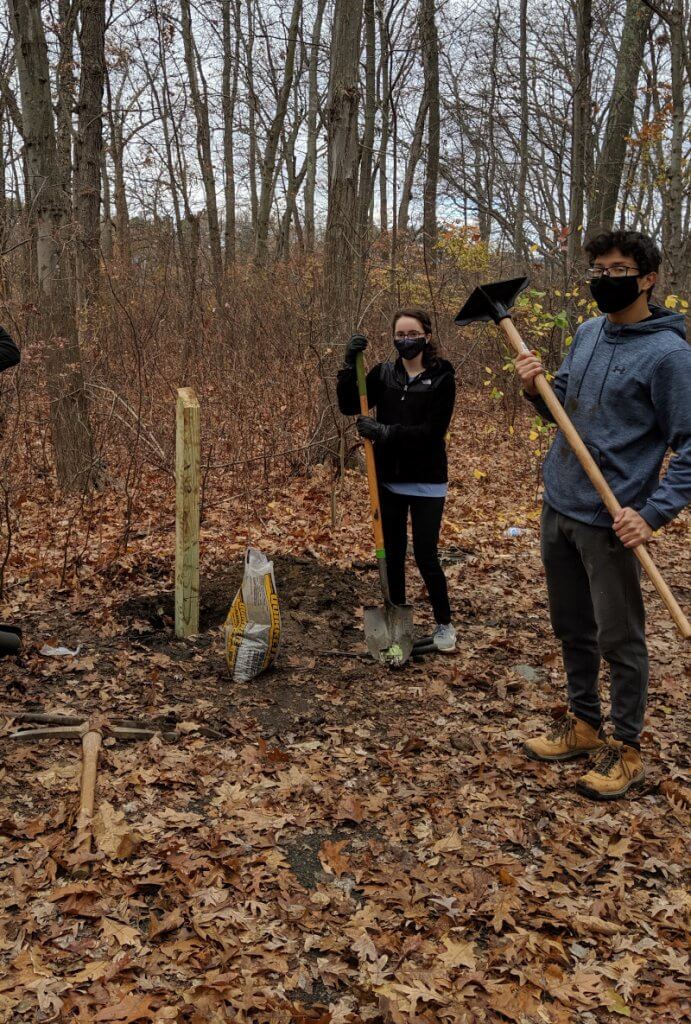 There is still much more to come for orienteering in Newton. Channon and the Newton Parks Department are in the process of getting maps created at Cold Spring Park, Kennard Park, Nahanton Park and Edmand's Park in the spring.
Eagle Scouts from local troops have been lined up to add additional permanent courses in those parks as well. Channon is planning to share her experiences via a zoom meeting with the Metro West Regional Massachusetts Recreation Association in early December to hopefully get orienteering into even more metro Boston area park programs.
"I can't wait to offer more programs in our parks to youth, families, scouts, summer day camps, after school programs, middle and high school clubs, adults and others to help teach and promote the sport of orienteering."
Channon Ames, Recreation Program Manager
Interested in getting involved with the Youth Mapping Program as a remote mapper? Fill out the form here.
We will leave you with this fun online jigsaw puzzle of the Cove section of the Auburndale map for your enjoyment. Click on the 'Reload' icon in the lower left to shuffle the puzzle if necessary and have some fun.