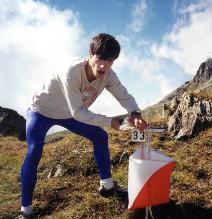 Iain "Dawg" Wilson was an accomplished orienteer who represented the USA in the World Cup in Norway and Denmark, in the Swiss Alps for the World Student Champs, and in the Scottish 6 Days. Although his life was cut tragically short in 2008, his legacy survives through the annual Iain Wilson Character Through Competition Award and Wilson Community Growth Grants.
Now entering its ninth year, the $1,000 Iain Wilson Character Through Competition Award is now accepting applications. This award recognizes junior athletes who demonstrate a competitive spirit, friendship and qualities that leave others feeling good about the world. Funds may be used to support travel and training opportunities.
Applications for the $1,000 Wilson Community Growth Grant are now being accepted. This grant helps to "develop and implement programs aimed at expanding access to orienteering for youth." Applicants of all ages partner with an Orienteering USA-affilitated club, OrienteeringUSA or a registered nonprofit organization, which will disburse and administer funds. Funds may be used for equipment, transportation and other appropriate uses.
Applications are now being accepted for both awards and will be open through March 31st, 2022. More information about both awards can be found on the Recognition page and includes links to both online and downloadable applications.
Please contact Marc at iainwilsonaward@nullcomcast.net for additional details. Contributions may be tax-deductible and are administered by Orienteering USA.