US Ski-Orienteers Performances Continue to Improve on the 2nd Day of the World Ski-Orienteering Championships and European Youth Championships.
The 2022 World Ski-Orienteering Championships and European Youth Ski-Orienteering Championships are taking place in the North of Finland in Kemi this week. The men's race on Wednesday, March 16th, 2022 was a long pursuit race. In a pursuit race racers start the amount of time they were behind the leader in the previous race which was a sprint. The men's race was noteworthy for starting with skiers skiing up a downhill area, thus pulses were very high from the very first seconds of the race. The race had three loops.
The men's race was won by Jörgen Backlid of Norway in 69:02 (his time for day 2 was 57:08) who had been in the lead of the sprint race until he made a small mistake of about 15 seconds near the end and ended up in 4th place 7 seconds behind the winner. Tuomas Kotro of Finland was second and Nicola Mueller of Switzerland had an impressive race ending third. Chris Burnham of Stowe, VT, who is coming off of an impressive 2nd place finish in the American Brikebeiner classic ski marathon which had over 1600 participants, had a solid race. Chris was 47th in the long pursuit race and the top American man with a day 2 time of 83:09. Chris commented, "I was happy that the race was longer today than yesterday as I enjoy and do better at longer races. Some of the mazes of small trails were really dense and thus quite difficult."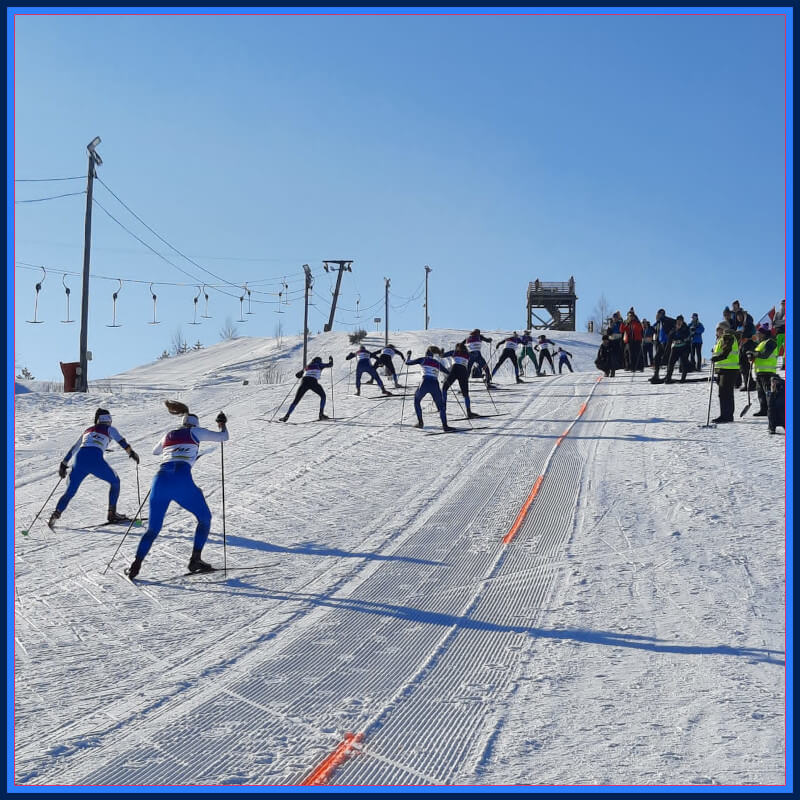 American Nikolay Nachev from Seattle, WA was 52nd with a day 2 time of 102:15. The mazes also stood out to Nikolai who commented, "The gentle slope with no wide tracks was like the Bermuda Triangle. You go in there and you don't know whether you are going to get out." The men's race was noteworthy for starting at the bottom of a downhill ski slope which the athletes had to ski up making a great spectacle for spectators. Many thought this was a somewhat harsh to start a race like this, but Chris and Nikolai who both like tough races were excited by this intensive start to the race. One can watch the races on web-TV at: https://orienteering.sport/event/world-ski-orienteering-championship/pursuit/
The European Youth Ski-Orienteering Championships had a middle distance race today. The race was won by Pyry Riissanen from Finland in 18:01. American Erik Fey had an impressive race, especially given that he is 13 years old and racing in the 17 and under class, ending 18th in a time of 23:24. These European Championship races are Erik's first time racing internationally for the US. Erik was excited to be solidly competitive and in front of some skiers from top nations like Sweden. Erik commented, "It has been a great experience to race at the European Youth Ski-Orienteering Championships. I love the feeling of flying along the narrow trails with quick turns. I am very pleased with my race today, but I did have one 15 second mistake early in the race. Being here really motivates me to train harder for future years. I am really looking forward to racing in these races in a few years when I am 17."
Tomorrow will be a rest day and then the races continue with a middle distance race for World Championships and a long distance race for the European Youth Ski-Orienteering Championships on Friday. However, being only 13 Erik has opted not to race in the long race this year. He says he looks forward to hopefully trying that next year….
Press Release courtesy Carl Fey