The following are awards that individuals or groups can receive on an annual basis for their impact on or performance in orienteering.
---
Silva Award
The Silva Award is given annually to an orienteer who, along with being a member of Orienteering USA, has demonstrated outstanding service to orienteering in the United States over the past five years. The recipient need not be a terrific orienteer, and orienteering skill is not considered in determining the award winner. The essential quality of every winner has been service to promoting and sustaining orienteering, to making the sport work in this country, and in helping to build the organizations needed to make orienteering successful.
---
Golden Service Award
The purpose of the Orienteering USA Golden Service Award is to recognize those individuals who have provided exceptional service to the sport of orienteering that extends beyond the local club level.
---
President's Award
The President of Orienteering USA bestows the President's Award to those members s/he feels deserve recognition in a given year.
---
Competitive Awards
The Competitive Award Program's goals are to recognize and reward outstanding competitive accomplishments by U.S. orienteers at the end of every year.
Orienteer of the Year is awarded to the best USA orienteer of the previous year, based on results at national and international events.
Junior Orienteer of the Year is awarded to the best USA orienteer no older than 20 in the previous yera, based on results at national and international events.
Comet of the Year is awarded to the most improved USA orienteer, based on results at national and international events.
Orienteering Team of the Year is awarded to the best USA national or club orienteering team, based on results at national and international events.
---
Iain Wilson Awards
Iain "Dawg" Wilson was an accomplished orienteer who represented the USA in the World Cup in Norway and Denmark, in the Swiss Alps for the World Student Champs, and in the Scottish 6 Days. In 2000 he was the United States night orienteering champion.
He stood for determination, drive, and the willingness to put in hard work…to go the extra mile. Not once in a while, but every day. He understood that where you start doesn't have to define where you finish. Whether it was mastering orienteering, running a certain time on the track, becoming fluent in a new language, or developing the perfect bread recipe, once Iain put his mind to something, he would always find a way to meet his goal. While Iain's life was tragically cut short in 2008, his legacy lives on through his family and friends. By creating this award, we strive to support young athletes in Iain's sport of choice. Through this endeavor we hope we can help them develop their own character and sense of purpose
The Iain Wilson Character Through Competition Award
The Iain Wilson Character Through Competition Award is presented annually to individuals who have displayed outstanding character in orienteering. The award is intended to assist with the cost of education, training, and travel to local, regional and international orienteering events. Awardees will be selected for their commitment to growth and improvement rather than recent performances or rankings. The awardees might not be the fastest or the best with a map. They will show competitive spirit, friendship, and qualities that leave others feeling good about the world. It is the indefinable support that some individuals provide that the committee hopes to encourage. Awardees will be role models and mentors for future generations of orienteers. They will remind us of who Iain was and for what he stood.
Wilson Community Growth Grant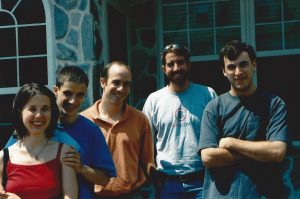 The $1,000 Wilson Community Growth Grant is presented annually to develop and implement programs aimed at expanding access to orienteering for youth. The award committee encourages creativity, sustainable programming and efforts to connect with underserved youth. Awardees are selected based on several criteria, including the number of youth to be served and the expected impact on each individual. Applicants partner with an Orienteering USA-affilitated club, Orienteering USA, or a registered non-profit organization which disburses and administers funds. The grant may be used for materials and equipment, transportation, facility rental, or other appropriate uses. The scope of potential program grants is broad. It could include school-based programming and after-school activities, free local events, and equipment for youth offerings. The end results should be to "bring young people into the woods" and begin the process of growth and self-discovery that orienteering can inspire.