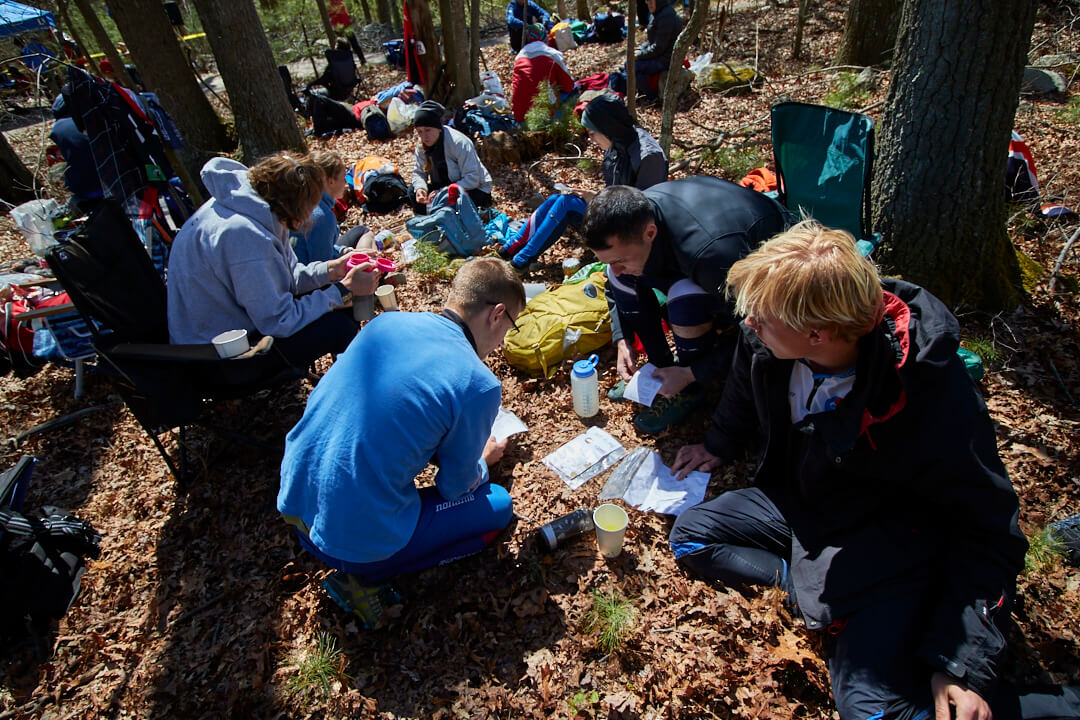 Training
Orienteering training combines technical skills development to efficiently navigate unfamiliar terrain with confidence and the physical conditioning necessary for speed, agility and endurance.
---
Becoming a proficient navigator involves learning a number of basic concepts and techniques and practicing these skills on a regular basis. Realize that as a beginner you will make mistakes and some will likely cost you a lot of time on the course. Learn to recognize what leads to these mistakes and be able to correct yourself before they become big errors. Even elite orienteers make mistakes, the difference is that they can more quickly catch themselves, adjust accordingly and minimize their time lost to errors. Practice, practice, practice…
Follow the video links below to watch short videos on each technique topic on Orienteering USA's YouTube Channel.
Basic Techniques
Orient the map: Rotating your map to align with the terrain (and keeping it aligned) allows you to quickly pick out the features you need to navigate your chosen route and match them with what you see around you.
Understand contours: know how to quickly determine when landforms are going up (smallish oval areas surrounded by larger ones indicate a high point) or down (look for streams, marshes, or other bodies of water) [VIDEO 1] [VIDEO 2]
Handrail: Using a linear feature, such as trails, streams, fences, power lines, as a guide along a route. Advanced courses may use more subtle handrails, such as swamps, reentrants, ridgelines, and vegetation boundaries. [VIDEO 3]
Attack Point: A clearly identifiable feature near your control that signals you to slow down and use precision navigation to find your control. [VIDEO 4] [VIDEO 5]
Catching features: Features behind a control, such as a trail, a stream, or a hill, that let you realize that you have passed or overshot your control. [VIDEO 6]
Collecting features: Features you mentally "check off" along a route that tell you you're on track; often referred to as "staying in contact with the map." [VIDEO 7]
Rough compass: using the North arrow on your compass to keep your map roughly oriented [VIDEO 8]
Precision compass: setting a bearing to your next control and finding a feature in that direction to go to.
Aiming Off: Deliberately approaching a control along a linear feature from the left or the right to increase the chances of locating the control quickly. [VIDEO 9]
Relocation: Recovering to a nearby obvious feature to re-try the control. [VIDEO 10]
As a general guideline, a competitive beginner has mastered the basics when they can complete an Orange (Intermediate) Course at a rate of 10 minutes per kilometer for men or 12 minutes per kilometer for women. For example, a male runner who completes a 3.5km Orange course in 35:00 minutes has met the 10 min/km standard.
Advanced Techniques
Distance Estimation: estimate the distance traveled on trails and through terrain using pace counting, time duration or similar.
Rough map: Getting a general understanding of how feature areas are different and how they connect, with different possible routes among them.
Precision map: identifying specific features, combinations, directions, and distances to precisely target a control point location.
"Red light, yellow light, green light":

Red: slow and careful moving, precise direction
Yellow: slow down, cautious movement and orienteering
Green: full speed, rough direction

Contouring: practice staying at the same elevation along a hillside (imagine following a contour); a useful skill to use when faced with a leg that crosses a very steep hill or valley
Control extension (enlargement): picturing the area near a control feature so you'll recognize when you're close
Projection / visualization: mentally visualize a map of the terrain, and mentally visualize the terrain from the map
CAR (Control – Attackpoint – Route): on the run, look at your map to find your next control, choose a solid attackpoint, and determine the route you will take to quickly and safely travel to the attackpoint
Whether runners, walkers, or something in between, we can all benefit from better cardiovascular endurance. A few things to consider in designing a fitness plan:
Frequency: Plan to walk or run at least three times a week to see improvement.
Duration: The time you spend training will differ depending on your goal. Workouts to build speed should be shorter and more intense. Workouts to build endurance should be 10-15% longer than you expect to spend out on a course.
Intensity: If you want to improve your speed, you need to train harder. Consider intervals, hill repeats, and tempo runs to push you outside of your comfort zone.
Overload: Improvement in physical fitness comes from a program that progressively increases frequency, duration, or intensity. To avoid injury, start by incrementally increasing frequency or duration for the first 4-6 weeks, then focus on increasing intensity. Many running coaches recommend increasing mileage (or total training time each week) by no more than 10% each week.
Recovery: Our bodies need time to rest. Many runners take a day off after a hard run, or cross-train for active recovery.
Balance: Too frequent or too intense training leads to injury. Most runners include one tempo run and one interval or hill workout in their weekly training, along with one long run to push their endurance. Everything in between is cross-training or workouts to increase weekly mileage. A well-balanced plan incorporates two more key fitness principles:

Variety: Besides avoiding that feeling of being "in a rut," variety keeps our bodies guessing. If you do the same workout every week, your body adapts to it and you get dimishing returns for your hard work. Good ways to ensure variety include not just changing frequency, duration, and intensity, but also mixing up the terrain you train on, the time of day you go out, and who you train with.
Specificity: The military calls this "training as you fight" – practicing in conditions that are as close to those you will race in as possible. A few things to consider:

Terrain: If we were road runners, we would do most of our training on pavement. But we're not – we run on roads, trails, and cross-country in all types of weather conditions. Taking our workouts to the trails and the open woods can mean better micro-route choice and footspeed on uneven ground. This translates to faster splits in competition.
Time of Day: Rogainers and Night-O enthusiasts will tell you that darkness changes how you move, how you navigate, and how you perceive distance traveled. Experiencing this ahead of time allows you to make necessary adjustments to your strategy and equipment and builds confidence.
Interval training: Orienteering is an interval sport. We plan our routes, run hard along a handrail or between features, then slow down to conduct fine navigation into our control. Then we do it all over again. Our training should reflect this.
---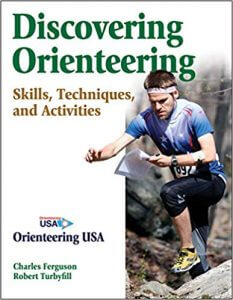 Discovering Orienteering
An excellent resource for physical educators, recreation and youth leaders, orienteering coaches as well as individuals, Discovering Orienteering distills the sport into teachable components relating to various academic disciplines, provides an array of learning activities, and includes an introduction to physical training and activities for coaching beginning to intermediate orienteers. Guidelines take eager beginners beyond the basics and prepare them to participate in orienteering events. More than 60 ready-to-use activities assist educators in applying the benefits of orienteering across the curriculum.
Developed in conjunction with Orienteering USA (OUSA), Discovering Orienteering addresses the methods, techniques, and types of orienteering commonly found throughout the United States and Canada.

Available at Amazon & Google Play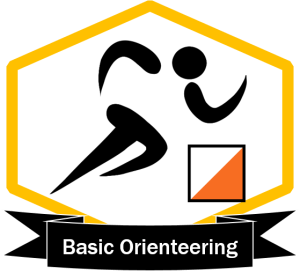 Orienteering USA Formal Training Programs
New for Fall 2020, Orienteering USA announces a variety of formal training programs to accompany our written manual Discovering Orienteering. Current offerings include:
Basic Orienteering Online – designed for individuals and small informal groups.
Blended Basic Orienteering Class – designed for groups or clubs to work in conjunction with a Level 1 Coach (online or onsite) utilizing a mix of resources.
Zero to Orange – a more intensive group program designed to fit in a weekend seminar format.
Orienteering Development Model – provides a healthy, forward-thinking approach to the progression of orienteering development, both as individuals and as a living community. You can watch an overview of the ODM on our YouTube channel.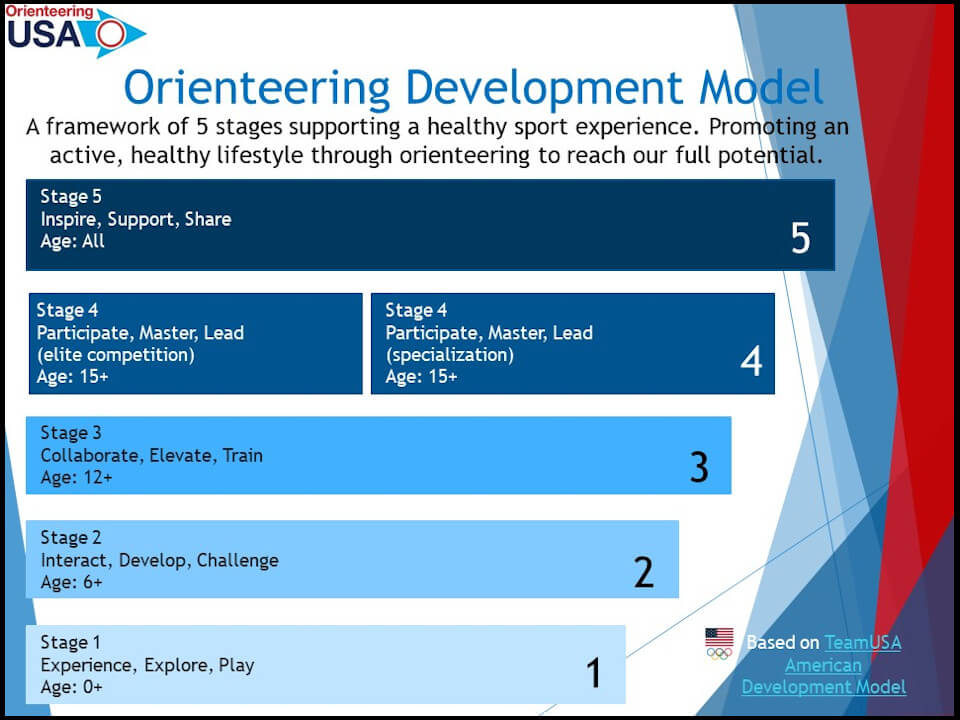 Free access to the online components of the programs is provided as a member benefit to current Orienteering USA members and is offered at a premium to non-members. Why not join OUSA today? Click here for program details.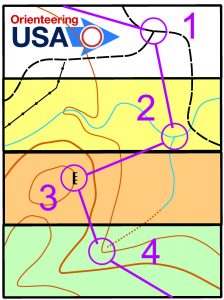 Orienteering Skills Recognition Program
The Orienteering Skills Program is a sequential, four-step program for improving navigation from beginner to advanced orienteer. Each level features concepts, learning, and demonstration of skills that build on each other, as well as a completion patch. This is intended for use by coaches and beginner orienteers to ensure a proper progression of skills and may be integrated with the three programs above.
This program is especially useful for youth-development organizations and schools, whether used stand-alone as its own program or as informed orienteering guidance to support navigation, map activities, and badges already developed elsewhere.
Each level consists of a number of requirements to complete in three categories:
Concept requirements require you to learn concepts related to orienteering and then explain them to someone to show that you understand.
Skills requirements require you to show that you can perform a specific skill that is related to the sport of orienteering.
Application requirements require you to participate in the sport of orienteering by completing courses, reviewing your performance, and helping at events.
Recommended training activities are also included at the advanced levels. These activities are particularly recommended if you are serious about competitive orienteering. If you cannot find someone skilled to coordinate these activities for you, they are optional and not required to complete each level.
If you have any questions or comments, contact Clare Durand.
---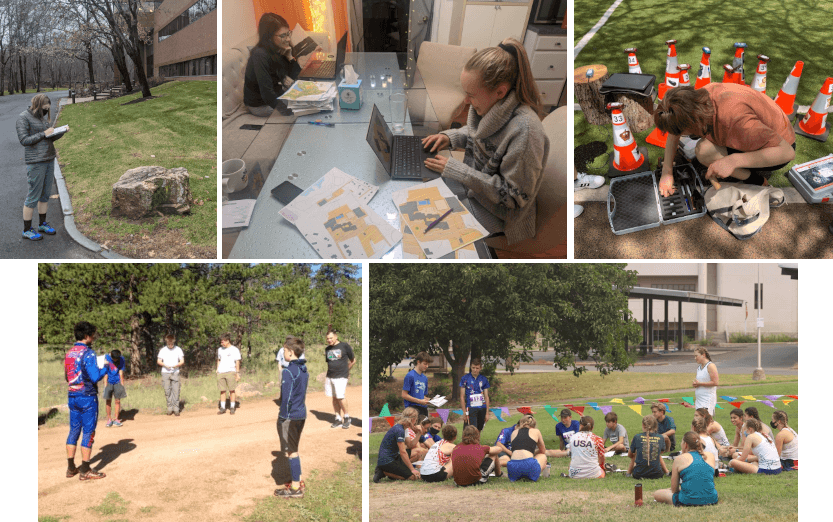 Youth Development Program
Orienteering USA has recently expanded programming for junior athletes into the Youth Development Program. The goal of this program is to support youth and young adults in developing their competitive interests as well as mapping, event direction, course design, sport journalism, or other aspects of orienteering that they love. Find out how you can get involved by checking out the program announcement.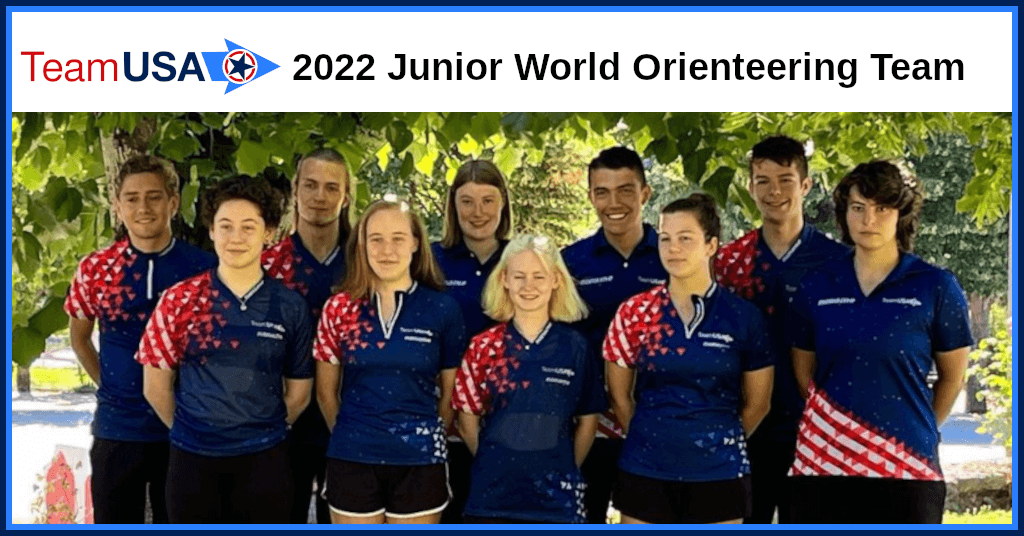 National Team – Junior Squad
Beginning in 2022, the former US Junior Team has been assimilated into the US National Team. The National Team now consists of three squads – Elite, Performance & Junior. Young orienteers who have mastered the basic skills and aspire to be among the best competitive orienteers in the US are encouraged to apply annually to the Junior Squad.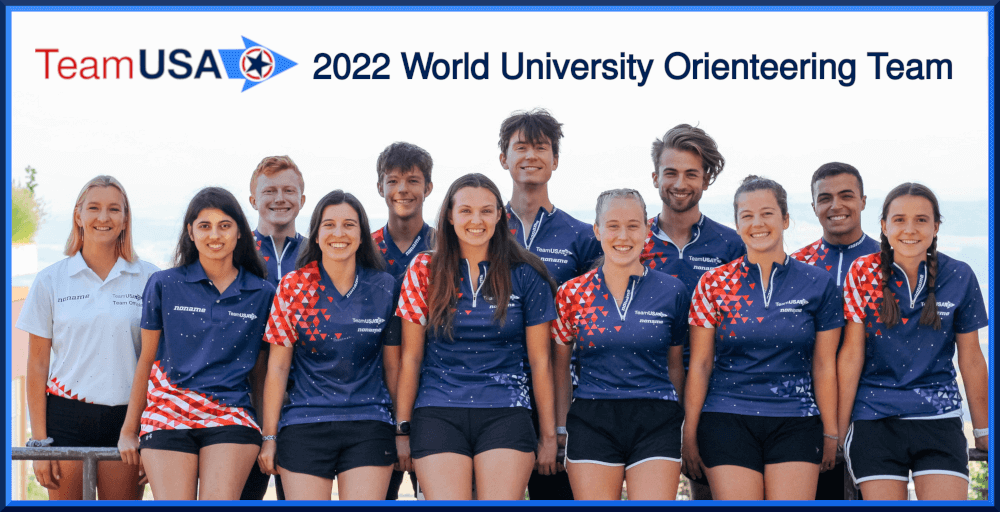 Junior squad members are full members of TeamUSA and benefit from mentorship and training opportunities with our senior TeamUSA members. Juniors on the National Team often end up being selected to compete for the US at the Junior World Orienteering Championships (JWOC, annual event), or together with other college age athletes to compete at the World University Orienteering Championships (WUOC, biannual). Applications for the National Team usually come out in December.
Be sure to check out our Youth Development page for even more resources geared toward youth, schools, scouts & ROTC units
---
External Resources*
*Links do not associate OUSA endorsement, they are merely provided as resources.
Attackpoint (AP) is a website created by and for orienteers that has many performance and training tools for athletes. The majority of the members reside in North America, but there are many from all over the world. One can check on future events, or on results, photos and discussions of past events, as well as follow discussions on an abundance of topics. There are numerous advanced training tools that are available to users who donate to support the site.
World of O is the best starting point for international orienteering. It provides information and news about elite athletes and elite races, provides links to maps and and courses from events all over the world.