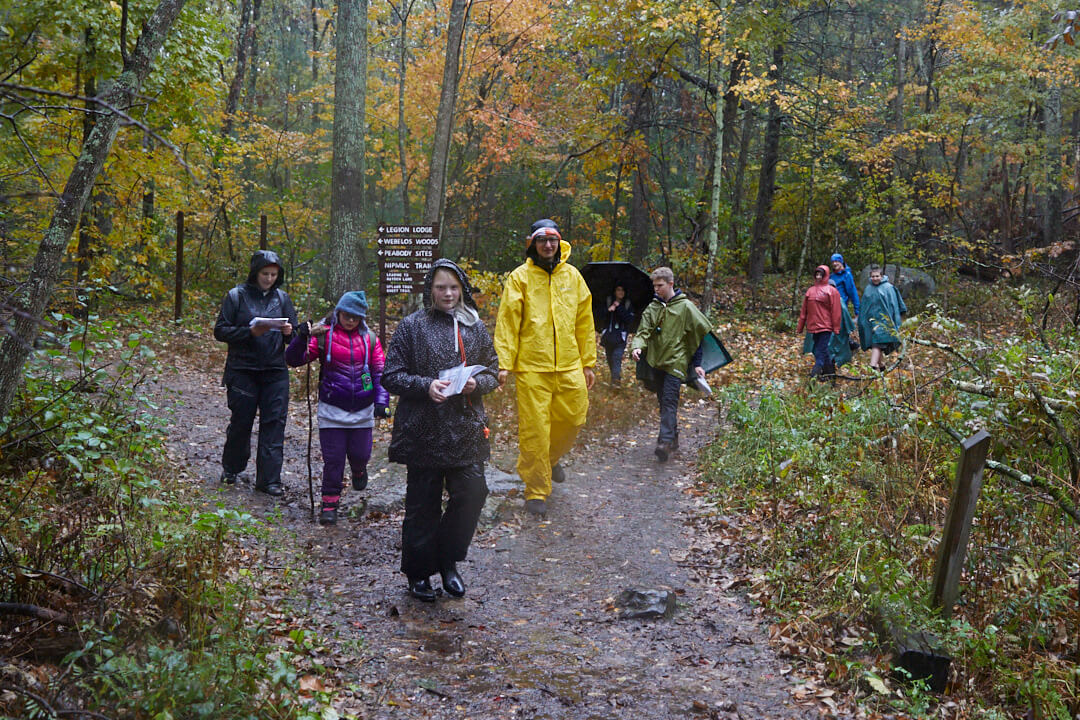 Youth Development
---
Are you a young person who loves orienteering? Do you want to connect with other youth who share your interests? Are you looking to connect with coaches, advisors and mentors beyond what you can find in your local community?
The OUSA Youth Development Program (YDP) supports youth and young adults in developing their competitive interests as well as mapping, event direction, course design, sport journalism, or other aspects of orienteering that they love. All youth are welcome. We especially welcome older youth who would like to inspire younger kids.
Sign up here to join the Youth Development Program: Youth application
Are you an adult interested in supporting youth?
Sign up here: Supporter / Coach / Expert / Mentor sign-up
---
Safesport

A primary obligation for any coach or adult in any youth sport is to keep participants safe from harm, both from sport-related injuries and the misuse of adult influence. A safe environment is one in which everyone knows the early warning signs of trouble. Our Junior Safety Handbook discusses misconduct and strategies to prevent misconduct from occurring. To help us prevent abuse and misconduct in orienteering, take the Safesport training and certification.
---
Programs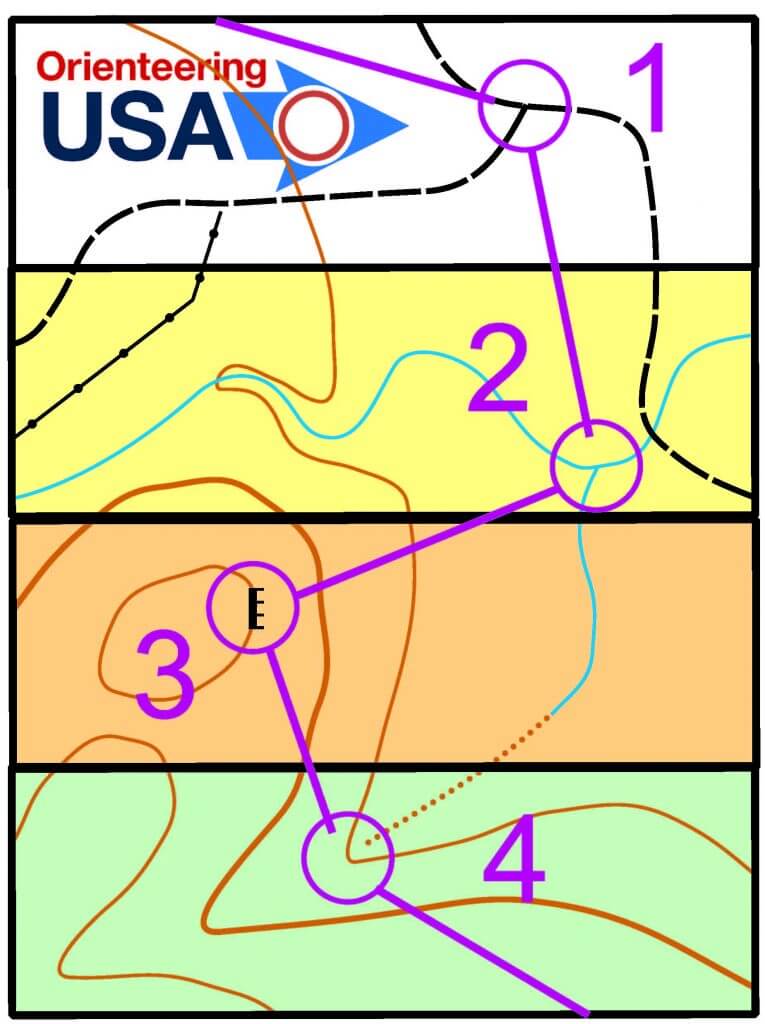 A good, structured resource for organizations and youth focused groups is the Orienteering Skills Recognition Program from Orienteering USA. It walks participants progressively through different skills levels of orienteering, along with specific requirements and four patches for achievement.
---
Youth Mapping Program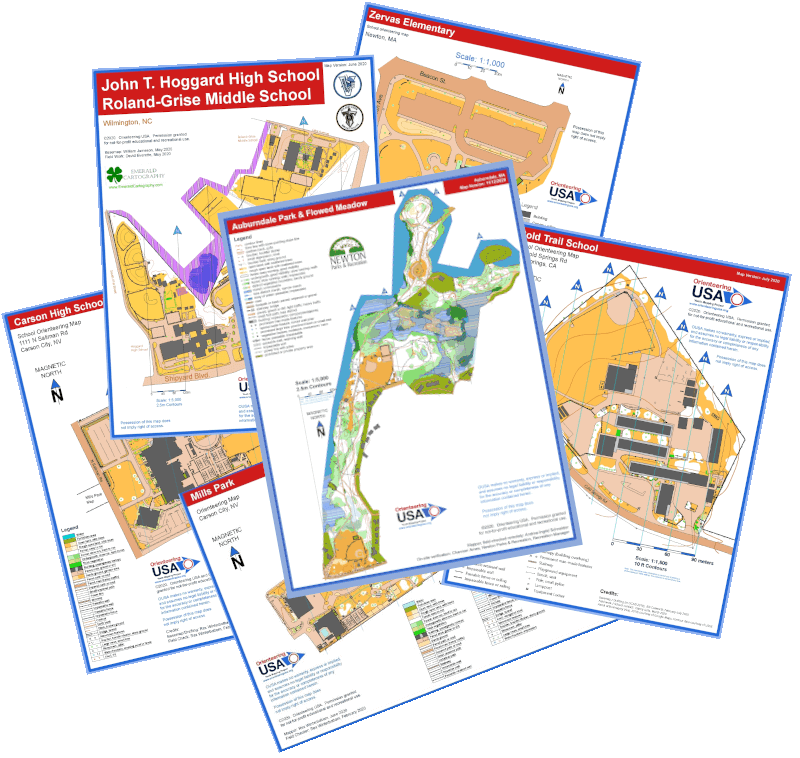 OrienteeringUSA has a special program designed to facilitate the production of small park & schoolyard maps for teaching orienteering skills to youth groups and students. More information can be found on the Youth Mapping Program page.

Many creative ideas for utilizing your school yard map in practice can be found in this document. Use this as a starting point in developing your own map based curriculum.
---
School Resources
The abilities required to learn navigation appear gradually in youth over time, growing in complexity from a very early age—first the concept of a map, then learning colors and symbols, orienting the map, and so forth. This chart from Swedish Orienteering shows the path of skills development. When students have mastered one level, they are ready for the next.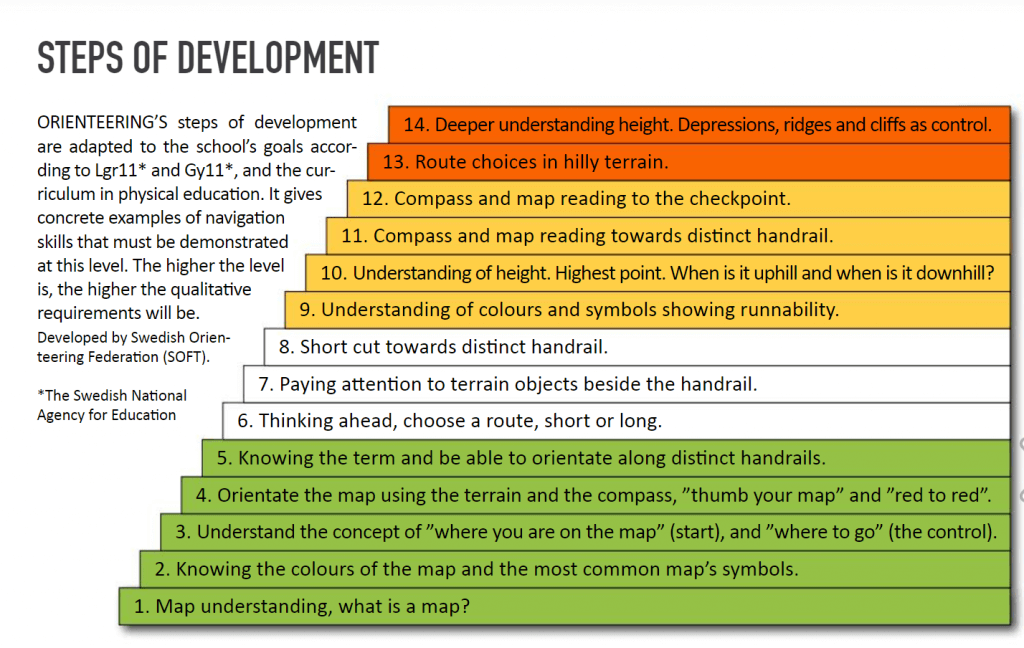 Consequently, orienteering lessons for a primary schooler look very different from those for middle schoolers and high schoolers. Everyone can learn orienteering, but at the level appropriate for their level of maturity.
The lesson plans shown here, submitted by different orienteering clubs, will evolve over time as coaches and youth leaders try different plans and provide the feedback necessary to designate some as best practices.
General Intro Plans for Orienteering
Primary School Lesson Plans
Middle School Lesson Plans
High School Lesson Plans
Other Teaching Resources
---
Scouting
Both Scouts BSA (Formerly known as Boy Scouts of America) and Girl Scouts of the USA have a strong interest in developing strong, confident youth leaders with a deep appreciation of the outdoors and an ability to navigate proficiently in it. In both organizations, the structure exists for effective structured navigational training, but additional resources are necessary for a successful introduction to the sport of orienteering.
Scouts BSA feature a couple of achievement goals on the orienteering topic—the orienteering merit badge and the First Class award. But often, in the absence of viable orienteering maps, the focus turns entirely to azimuths and compass skills, missing much of the terrain recognition and map-reading expertise that forms the core of the sport of orienteering
Girl Scouts once had an find your way badge, and the requirements from it are still recycled years later by troop leaders who can find this historic resource. Other leaders find themselves looking outside the organization for resources to give their scouts the training necessary to build strong outdoor leadership.
Scouts BSA: Orienteering Merit Badge
Here is an excellent written plan for how to achieve the requirements of this badge. While still compass-heavy, it exposes scouts to orienteering maps, concepts, and courses for a full intro to the topic.
You can also use your local orienteering club as a resource. Most events hosted by clubs will fulfill the requirements 3 and 4.
Scouts BSA: First Class Rank
The First Class Rank Requirements cover far more than outdoor navigation. But included in these are several goals for which our local club's orienteering events are highly useful:
1a. Participate in 10 patrol activities (over half outdoors). Orienteering Club events are pre-planned, with variety, structure, and quality built in.
4a. Using a map and compass, complete an orienteering course that covers at least one mile and requires measuring the height and/or width of designated items (tree, tower, canyon, ditch, etc.) . Orienteering courses are measured in kilometers, so any course longer than 1.6 km qualifies. Depending on the course, the measurement of height and/or width of designated items may be part of the course or may have to be added on, often measuring an item near the start or finish.
9d. Participate in three hours of service through one or more service projects. Orienteering clubs are volunteer-driven, work regularly with parks, and routinely have needs to improve those relationships through service projects or volunteer assistance with an event.
Final Projects: Eagle (Scouts BSA) and Gold (Girl Scouts) Award
Some scouts have produced permanent orienteering courses in their areas for their Eagle Scout or Gold Award service project. Several of them incorporate QR technology that can be used with smartphones.
Equally useful, once a local club has enough permanent courses to manage and update over time, is the creation of a new orienteering map of a local park for community use. This can either become a local club resource or stay within the troop as a long-term scouts fundraiser, for hosting yearly orienteering events for the local community.
Other scout resources
---
Junior Reserve Officers' Training Corps (JROTC)
JROTC, offered as a high school program, blends the curriculum perspective of high-school orienteering with the hierarchical structure of Boy Scouts. In this environment, orienteering typically serves two goals:
It is one of several structured units and confidence-building exercises that cadets cycle through during the school year to gain a variety of leadership experiences.
For those who thrive on this type of challenge, an Orienteering Team provides the opportunity to compete against the best in a variety of venues:

A student league, if the local club has one
Club or national events, if they are nearby
National championships, either school-focused or JROTC-specific (NJROTC Champs)
Your local club will be able to help you get involved, find yours and reach out!
Resources
---
If you have any questions, reach out to our Liasons.
---
Share your successes!
Have a plan or other resource you feel could be useful to an audience above? Drop it in the OUSA Skills inbox