Update (5 Feb, 2023): This post has been updated to reflect a press release covering the Long & Relay events at EYSOC '23. Updates can be found beneath the map image below.
The European Youth Ski-Orienteering Championships are now taking place in Madona, Latvia from January 31-February 5, 2023. Countries from outside Europe are also able to take part. TeamUSA is being represented by Erik Fey, age 14, who is competing in the 17 and under male youth category. Erik was 16th place in both the sprint race Tuesday and the medium distance Wednesday which the announcer said is the best US result in European Ski-Orienteering Youth Championships ever improving upon Erik's best result of 18th place last year. Erik was especially pleased today to meet his goal of having the best result of anyone born in 2008 or later.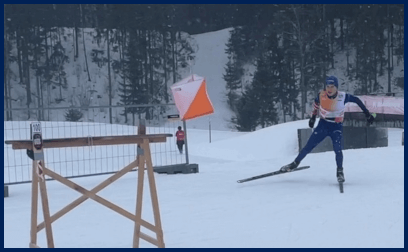 The sprint race and the medium race were both won by Ritvars Lepeskins from Latvia ahead of Lavio Mueller from Switzerland and Eemil Koskinen of Finland. When asked about his race Erik said, "I am pleased to be in the top 20 and felt better about my race today than yesterday even though the results were the same. Today I had three people in 12 seconds in front of me, so I know I can improve my results if I can push just a little bit harder and eliminate the two small orienteering mistakes I had today. My skis were very fast today. I really look forward to the long race on Friday as it is a mass start race which will be in a one man relay format as I love mass starts. I would also like to thank Orienteering USA for their support and my coaches my father Carl Fey and Henri Hämäläinen for training me."
This year the European Youth Ski-Orienteering Championships are being covered on web-TV, so you can watch them and see complete results and GPS tracking at: https://orienteering.sport/event/european-ski-orienteering-championships-2/middle/ European Championships continue on Friday with the long distance race and conclude on Saturday with a relay.
For more information or to send a message to the US Team at the races, please contact: carlffey@nullgmail.com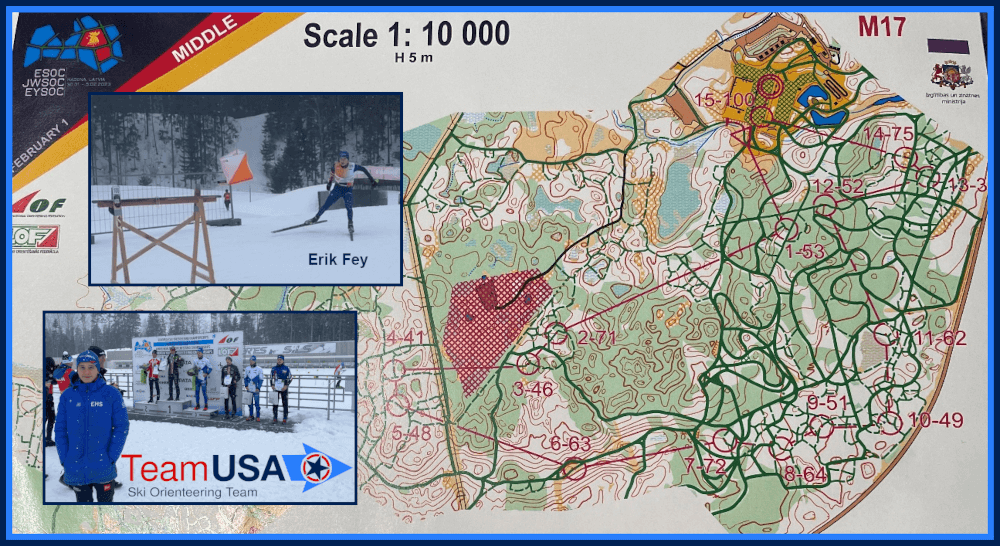 February 5th update:
On Friday, February 3rd, 2023 the long race of the European Youth Ski-Orienteering Championships for people under 17 took place in Madona, Latvia. Erik Fey (age 14) was the only American participant and ended up in a solid 16th place, ironically the exact same place he obtained in the sprint and middle distance races earlier in the week. Erik had the best result in the race of anyone born in 2008 or later. The race was won by Ritvars Lepeskins from Latvia followed by Eemil Koskinen from Finland and Filip Mairich from Czech Republic.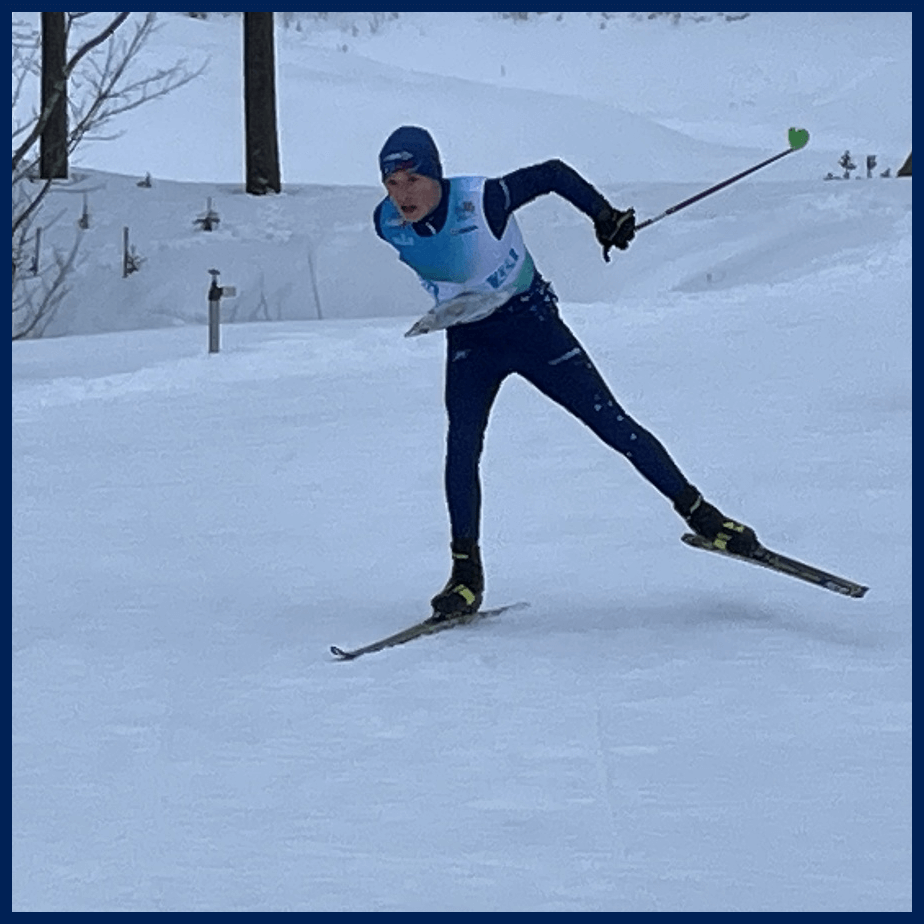 On Saturday, February 4th, 2023 was the relay. The home crowd was excited to see Latvia take a step forward in the ski-orienteering world and win the European Youth Ski-Orienteering Championships. Finland took the silver medal and Czech Republic the bronz. Since there were not three Americans, Erik Fey teamed up with two Swedish skiers Ludvig Markhester and Andreij Kuzmin to ski the relay unofficially—teams with people from more than one country do not count in the official standings. All three skiers had solid performances and the team ended up unofficially in 4th.
The 2024 European Youth Ski-Orienteering Championships will take place in Austria together with the Junior World Championships and the World Ski-Orienteering Championships in late January. Hopefully more American ski-orienteers will take place in those races.
Many thanks to Carl Fey for providing OrienteeringUSA with timely press releases and the photos from Latvia.