New TempO software is introduced during the first World Ranking TrailO event in U.S.
By: Jennifer A. Sheffield
The 2023 Navy Yard TrailO World Ranking Event (WRE) started with a 20-station riverfront Sprint PreO held at Philadelphia's Navy Yard and ended with an eclectic tour of 25 flagged locations that took competitors through a mix of soccer fields, cultural markets, and around two large lakes within South Philadelphia's FDR Park over the weekend of August 18-20. But it was two TempO events (both public), which kept the combined fields of Open (O), Juniors (J), and Physically Challenged (P) competitors on the edge of their seats.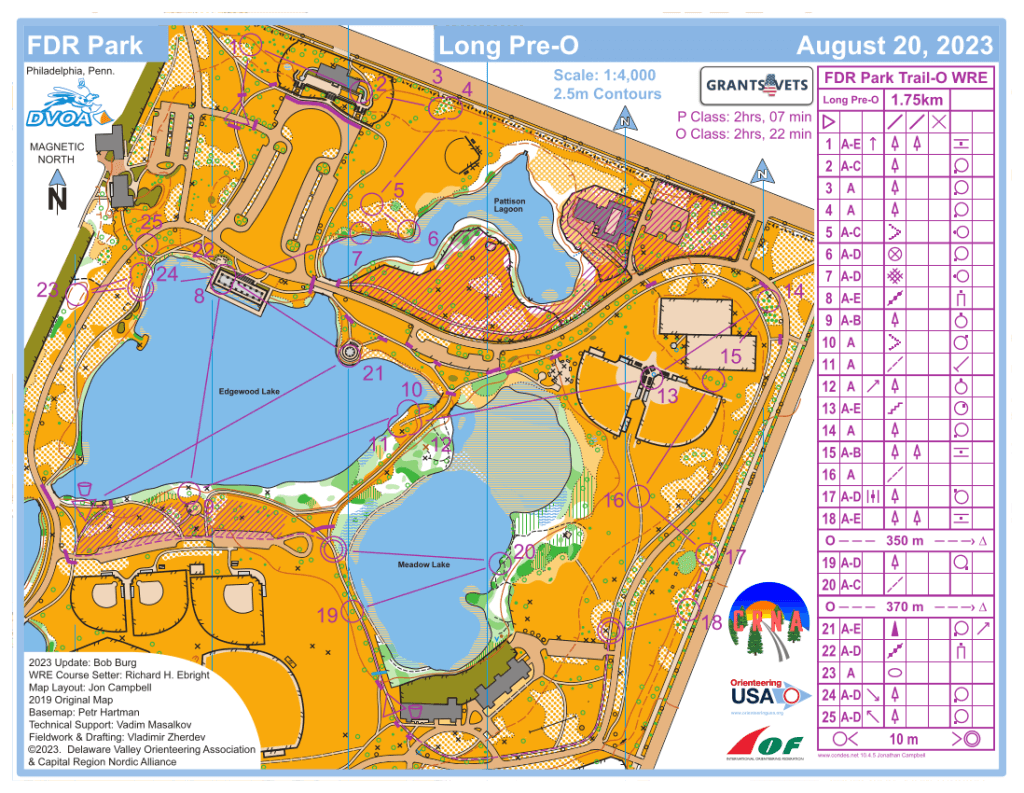 Competitors dealt with flags set on a course designed by Daniel Heimgartner among gravel paths dotted with public art pieces at Central Green Park, then navigated a series of controls placed among the architectural elements of buildings surrounding Crescent Park at The Yard.
"It was challenging," said U.S. Air Force Lt Col (ret.) and 2023 World Championships OUSA team member, Anne Maker (P), after completing the TempO on Central Green at The Yard. "There were circles everywhere, so, I had to figure out which circle I needed to focus on, at each stop, because this park is a circle," she said.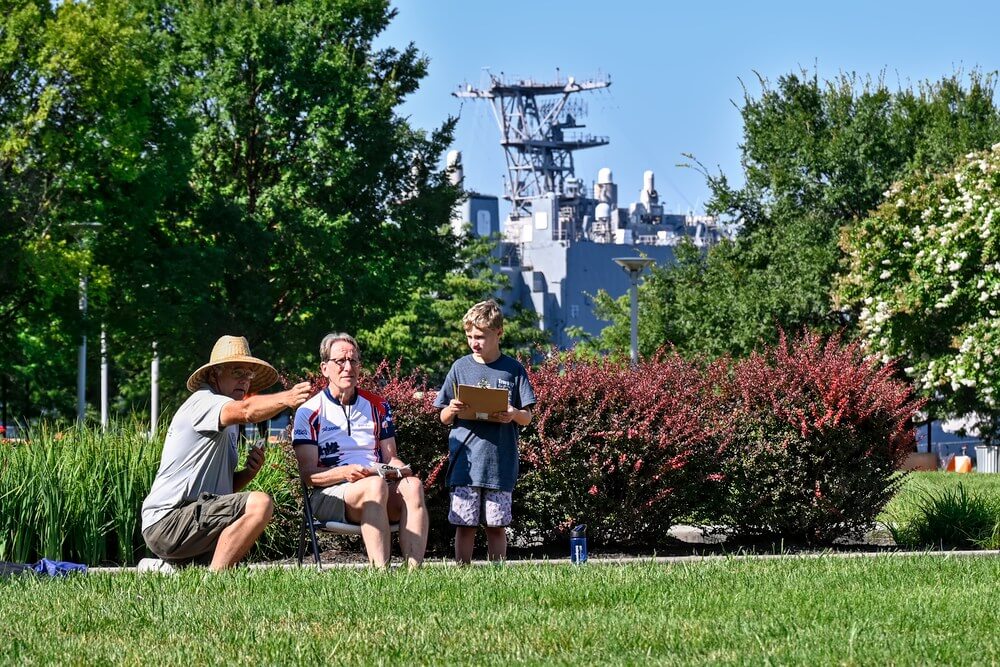 Marshals on the TempO courses were equally challenged with using one of the first applications of a new time and scoring software, called Toepunch, which was tested against the speed and accuracy of each athlete's decision. The point is to match the data entered, to the reality of a competitors' experience, at each station. The app means marshals don't have to set down a pen after the athlete gives their fourth answer, hit the stopwatch at the same time, then write down their final answer.
Amy Latva-Kokko, whose husband Mika and children, Jarmo and Katja, competed in the 2023 Trail-O World Championships was a marshal for the event. "I enjoyed using the handheld mobile devices on the TempO. I found it user-friendly, and much quicker," she said. "If there was an error, I was able to fix it," Latva-Kokko, explained. "We had a second marshal as a back-up, but I like the mobile device, because if the second marshal had a time difference of one second we can add that information to the device and it gets submitted to the server."
Libor Forst of the Czech Republic created of this software because connectivity for a sport like orienteering is important. The success of the rollout also gave him confidence the sport can serve athletes with disabilities better while making stations enjoyable, and exact, for everyone; whether they are a beginner or seasoned racer. "Considering it was the first time that an American team made an WRE it was a good competition," Forst said. "Regarding the technology everything worked very well for us in Philadelphia."
Retired Armed Forces member, Charles Bromly Gardner, is an ElitO competitor, who also competes in FootO, and SkiO for Great Britain. He reflected on 40 years of doing the sport abroad. "I've not been to America for trail orienteering before and that was the attraction," he said. The last, high standard (non-WRE) event held in Britain, was the 2019 European Cup.
Even with new technology applied for its competition, Gardner still stated the model event held prior to the weekend was useful to see what the mapper is putting on the map and is not. "It's a mental challenge and I'm better at precision rather than the timed events. I'm starting to take my time in TempO but the youngsters still make quicker decisions," Gardner said.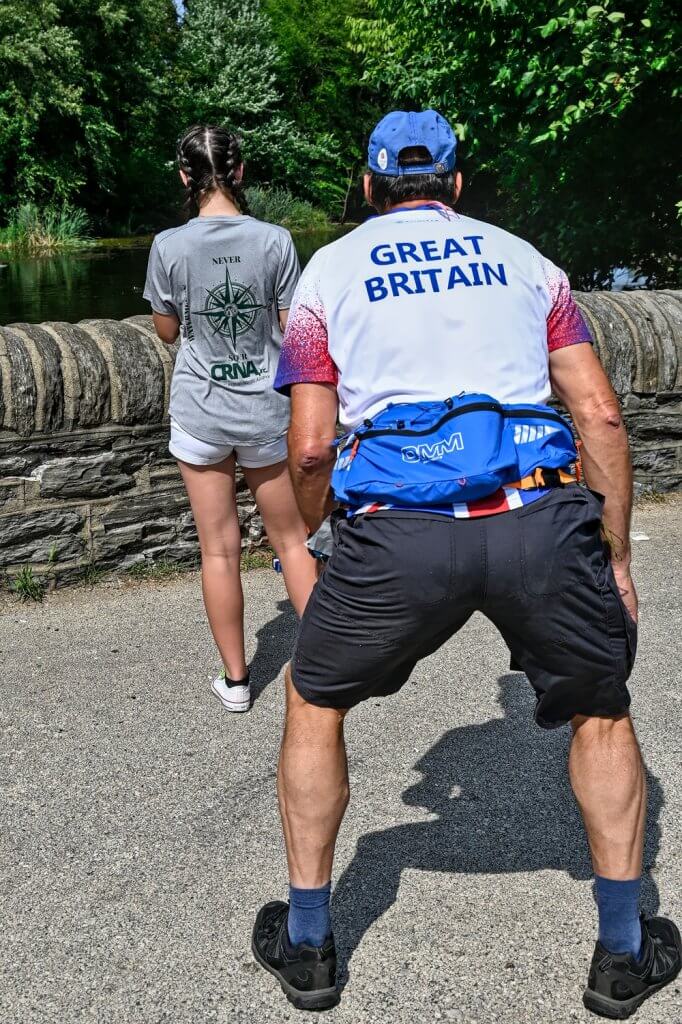 Cruising Through Obstacles
The 2023 IOFTOC TrailO WRE was hosted by OUSA's Capital Region Nordic Alliance (CNRA) based in Albany, N.Y. Director, Russ Meyer said compared to the 2021 OUSA Veteran Paralympic National Championships, shipyard courses were condensed, for specific areas.
Using electronic punch cards, wirelessly attached to electronic boxes placed at each station was a big change for athletes. "For para (P) athletes who have hand mobility challenges, or use a wheelchair, it can be difficult, but with patience they can manage it," said Latva-Kokko. This is a reason P and O athletes get different times to finish problems.
Gardner added, "It reduces man hours, but, what the software does, that is what you do, so if you wish to change it, the software has to change."
However, the system has increased flexibility in FootO and mappers can now design looped courses. Toepunch shows real-time results, but this also means the race host is putting more expense out into the forest.
Philadelphia's FDR Park cartographic work was done by an experienced consortium of Ari Tertsunen, Richard H. Ebright and Bob Burg.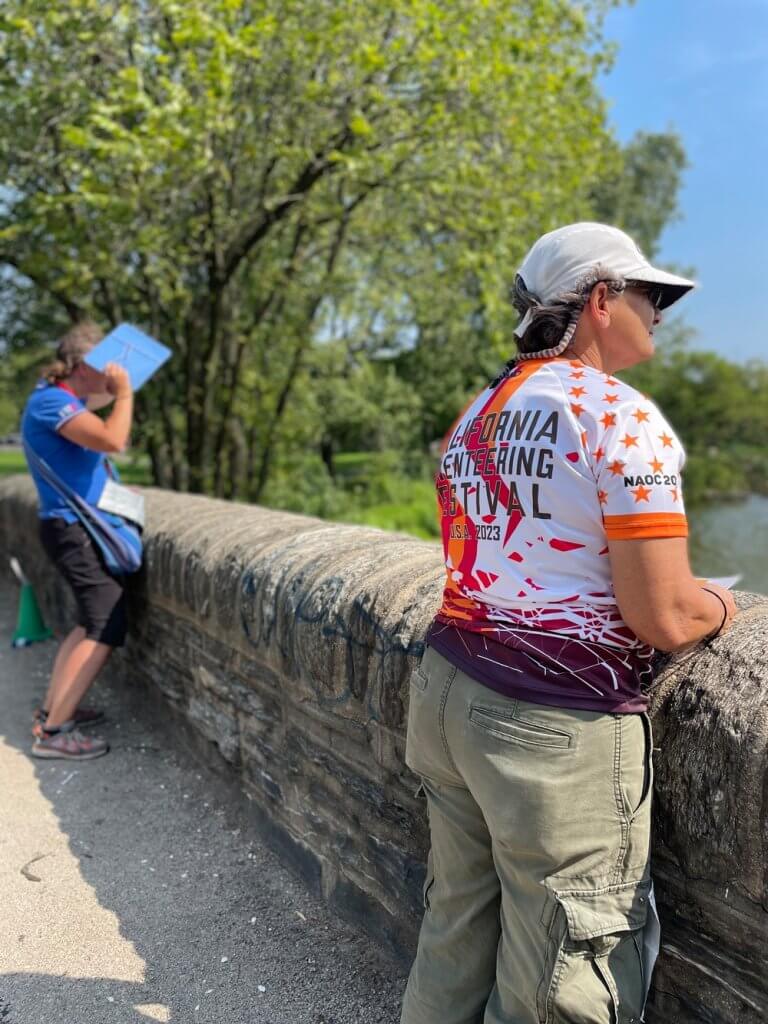 Orienteering USA President and TrailO competitor Clare Durand commented the sightlines across bodies of water made the course especially challenging. "I had some issues reading how they mapped some of the vegetation, which was not standard combined with problems that were vegetation based but I was happy with the difficult controls that made me think," said Durand.
Forst added, "The WRE TempO course, specifically, could be a good competition for any country to use."
"The PreO had problems because if you make a competition a public park, you have people there. The other thing was light conditions which was the reason for voiding some controls," Forst explained.
U.S. National team member, Paige Suhocki (J; DVOA) marshaled at The Yard and did the long PreO. It was her first time trying TrailO. "It felt inclusive," she said. "It is all about having good flow."
Continuing to Connect
Overall, Durand acknowledged that it is not OUSA, but the work of clubs like CRNA that do the event work whose efforts lead the way to leveling the playing field, and bringing international competitors together.
CRNA is a Move United chapter that sponsors Paralympic athletes in cross-country skiing, biathlon, skeleton and bobsled year-round. It added orienteering to its Nordic menu after receiving a Department of Veterans Affairs (VA) adaptive sports grant.
U.S. Army Sergeant Major (ret.) Kevin Bittenbender competed in Philadelphia with his service dog, Kirby, and said, TrailO really requires the participants to get out of their comfort zones. "It provides those with disabilities, a chance to be involved, in something and it narrows that excuse not to get out, because it gets you outdoors," he said.
Bittenbender learned land navigation in the Army, but he practiced for WRE, using online orienteering. He appreciates the focus that is necessary for TempO, and that the Toepunch system made it easy to navigate the course and stay organized along the route. "You don't miss a station, or, accidently punch something," he said. "You do have to make sure you have the right card in your hand, though."
For veterans, the sport also creates camaraderie, whether the competitor lives with a disability, or not.
In 2021, at The Yard, Lee Kuxhaus had never competed in TrailO and this year spent her free time studying her mistakes and was awarded for that with the second place medal in the WRE PreO para (P) class. "It is fun to introduce any sport, to new people," she said. "Because when you go to a competition know that you're going to build memories."
One thing that drives Bittenbender is a recipe he calls P-3, which stands for purpose, passion, and a part bigger than yourself. "In TrailO you're pushing your abilities, and whether you get 100% or 10% on a problem, it provides you a level upon which you can improve."
From a technology standpoint too, "Everything can be solved before the time clock is running," said Forst. "I am glad we got a chance to try this technology over the ocean and it worked."
Results at: top.yq.cz
Photos at: Orienteering USA Facebook
Photos courtesy Orienteering USA and Jennifer Sheffield
Correction: The new ToePunch software, which was approved in January 2023, was used for the PreO events. The TempO events used existing ANT software, also developed by Libor Forst, that has been in approved usage since 2016.